Seascape Beach House Tropical Holiday Cottage Surfers Point Barbados
Location Location Location!
Two bedroom two bathroom sleeps 6. Situated on an oceanfront peninsula in 1/2 acre coconut palm tree garden. Right @ the beaches at Surfers Point. Breathtaking ocean views. See the sunrise & sunset from the house. A wind, kite- and surf spot. If you love the beach, the ocean, palm trees, nature, peace and tranquility don't look any further. This is the place for you!
Seascape Beach House Tropical Holiday Cottage Surfers Point Barbados.
Heaven is a little bit closer in a house by the sea.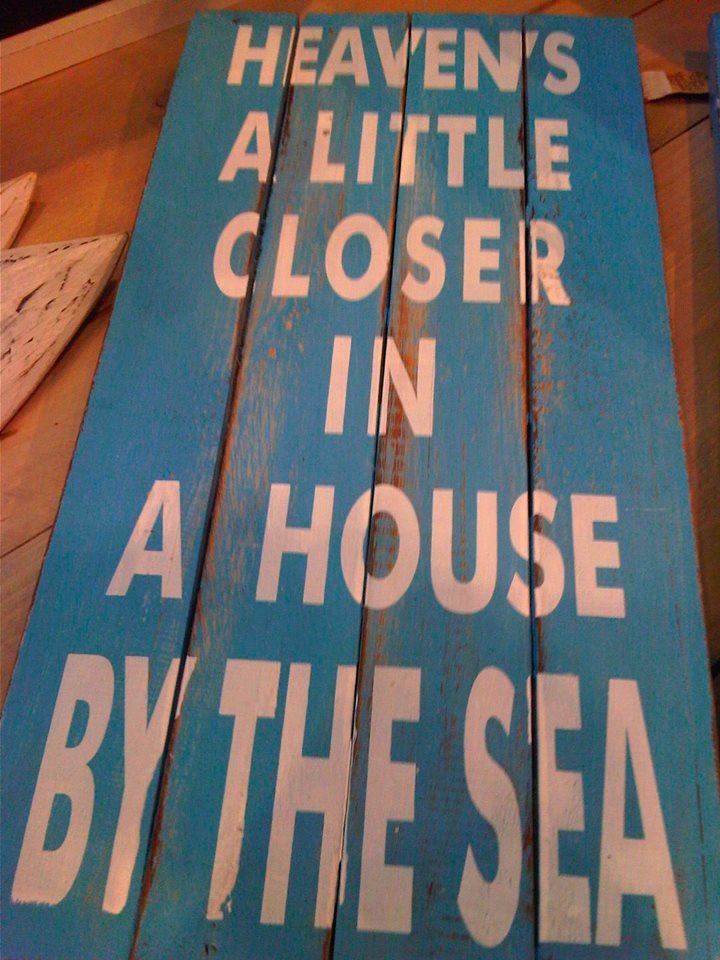 Located at a cul-de-sac in a quiet residential seaside neighbourhood. Steps from the beach and ocean. At this seascape the Atlantic Ocean meets the Caribbean Sea, hence the name Seascape Beach House. Eco friendly tropical partly wooden beach house. Watch the sunrise and sunset from the house. Fall asleep with the sound of the breaking waves. Ideal location for surfers, beach- & nature lovers. Surfing, kitesurfing, windsurfing, stand up paddle surfing, bodyboarding, swimming, snorkling, fishing, sunbathing etc. etc. or just relaxing. House offers total privacy.

The color scheme of the interior of the house is yellow-blue. The colors of the Barbados flag! Yellow representing the sun, sand and happiness and blue for the colors of the sea and beautiful Caribbean skies.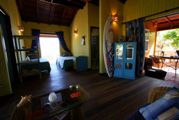 view from the deck, please turn on your sound! :-)
view in front of the house:
Services nearby
Eating, drinking:

Surfer's Point - surf rentals, lessons & snackbar

Ocean Spray - breakfast, lunch & dinner

Buffy's Bar - local village rumshop
Brian Talma's Surfcenter - rentals, lessons, shop, bar & grill

Shopping:

Buffy's Mini Market

Oistins Fish Market

Mikes Super Market

Oistins Super Center
Transportation:

Van to bridgetown via Oistins: 2 Barbados $ = 1 US $
Others:

Oistins First Caribbean Bank: currency exchange, ATM, VISA withdrawls etc.
Night Life:

Buffy's Rumshop

Oistins Fish Market

St.Laurence Gap
Guest reviews:
We absolutely loved our stay in Barbados! This little cottage by the sea is wonderful and was exactly what we were looking for! The trees provide lots of shade and keep the place cool! There's lots of wildlife that visits, birds and monkeys! We also saw lots of little lizards in and around the yard! We absolutely loved watching them, it was a highlight during breakfast to watch the little guys scurrying around!
The beach access is amazing, you simply walk out the back gate and directly to the beach! There's a nice little sheltered area where you can swim and relax. It would be a great spot if you like surfing, lots of waves!
The cottage was clean and tidy, Adri was great at communicating with us and we were greeted when we arrived! It had everything we needed to cook and live there for our visit!
Inch Marlow was very nice, our neighbors were great and everyone in the community was very welcoming! Buffy's Store is just a short walk away, he has groceries and most importantly rum! Thursday nights is Karaoke, it's a lot of fun, even if you don't sing!
We loved our stay and would definitely recommend it to anyone else looking for a quiet spot by the sea! Jessica, Canada
Great place to escape ! Miles, UK
Piece of paradise:-) Anne, France
AMAZING SPOT !! So close to the beach you can hear the waves from your bed ! The spot is perfect in a local neighbourhood, there's no tourist around! You can walk on the beach and having the beach to your self ! So quiet and calm ! The house is lovely ! Highly recommend this place ! Marie-Philippe, France
Everything was 100% as described and we loved it, we really had a blast, the information provided by the owner about local places was very useful and we used them all.If it was possible we would book again right now for the same time next year, could not have been any better, we totally enjoyed ourselves. sitting outside in the evening was brilliant and the privacy of the place is fantastic! Andy, USA
"Thank you for giving us such a beautiful home! We stayed in so many houses all around the island but yours we love the most !!!!!" Mirna & Chris, Germany
We had a great time in your house and we want to say thank you.It is a wonderful and quiet location with a fantastic view to the ocean.Everything was fine and we also say thank you to Ianthe for helping us in Barbados.Kind regards, Steffen & Amelie, Germany
It was great. Definitely loved the fact that even though outside was hot inside was cool. We had breakfast every morning on the patio and watch the sunrise.The sea breeze is incredible especially at night. The bathrooms were very clean and spacious and the beds were comfortable.Also loved the fact that the utensils in the kitchen were not outdated and seem to be kept in good condition.We would definately stay here again because its peaceful,relaxing and breath taking.Thanks alot for letting us stay and we look forward to doing business with you again in the future. Regards Kerri-Ann & Friends
Hi.Staying in your house was awesome. I love it :)I will be definitely coming back in July/August. The mobile dongle was a great choice, it worked quite good in the area. Thanks for the advice. Regards T.A. - Switzerland
Absolute bliss
We wanted somewhere far from the crowds but close to the water and this was absolutely perfect. It felt like we were in our own private world - every night we went to sleep to the sound of the waves and nothing else. I miss that sound so much!
You can walk from the property straight to the water, to a small beach.Great view.
We went with our 1.5 year old baby and he had a great time exploring the house and garden. The owner helped us organise renting a cot and high chair.
The house itself has everything you could need and is nice and cool despite the heat. Great experience and location. S. - London UK
It was great!!!
House is amazing!!! And the sea is so close...
We have to come back there.
Our son loved the house.
Thanks for everything!!!
Patrycja - Poland
a
Das Haus hat eine fantastische Lage und man kann von morgens bis abends die wunderbare Meerluft genießen. Die gesamte Insel hat ein gut funktionierendes Busnetz aber auch die kleinen Mehrsitzer Kleinbus für 2 Barbados Dollar (Silver Sand - Bridgetown Nummer 11) sind zu empfehlen. Abwicklung unkompliziert und gut, hilfsbereite Nachbarn,Preis/Leistungsverhältnis top. Bobby - Germany
Our Barbados holiday was amazing! We absolutely had a wonderful time, and definately fell in LOVE with the island. We also did enjoy our stay at your beach house. The location is amazing and we loved being able to walk out to surfers point to check the waves each morning. Thanks again,
Kelli and Tom Potts - USA

Wir hatten einen tollen Urlaub! Vielen Dank nochmal und viele Grüße
Johannes & Vio - Germany
This house is excellent for spending a nice, calm holiday dircetly at the beach. The atmosphere is very relaxed and you feel on holiday the minute you enter the wooden house and enjoy the view and the sound of the ocean or the coconuts in the garden. Fantastic for children and adults.Surfing and swimming is not even 50 metres away from the house. Friendly neighbourhood. Shopping centre is a ten minute drive by car to Oistins.
Ilka - Germany
"beautiful house, great seaview"
Really nice house with an amazing view on the ocean. It's magical especially at night with the wind.
Beautifull garden and magically peacefull.
Surfer - Holland
Book
direct
for the best rates or find us on Airbnb, Booking.com, Google, Homeaway, FeWo, Flipkey & Tripadvisor